Top 10 reasons to use HAIMER tool holders
HAIMER tool holders give your company a sustainable and long-term competitive advantage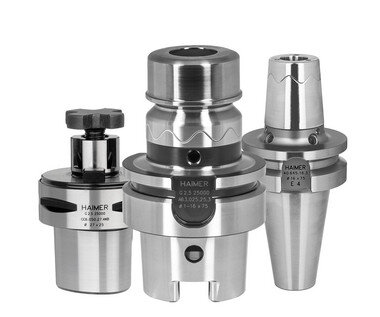 1. Rigidity
Thanks to optimized stabilization from the spindle to the cutting edge, HAIMER delivers a higher level of cutting performance. The symmetrical clamping force ensures perfect power distribution and longevity of your equipment due to the highest precision of the functional surfaces.
2. Runout accuracy
Uniform pressure on the cutting edges leads to, among other things, better dimensional accuracy, surface finish, smoothness and tool life: HAIMER guarantees a runout accuracy of <3 μm at 3xD for Shrink Fit Chucks, Power Collet Chucks, High Precision Collet Chucks and HG Chucks.
3. Balancing Quality
All HAIMER tool holders are fine balanced to G2.5 at 25,000 rpm or <1 gmm residual unbalance. Therefore, the spindle runs quieter and achieves better surface finish on the work piece. The tool life is maximized and the lifetime of your spindle is extended. Many times balanced tool holders and assemblies enable a significant increase in productivity.
4. Steep taper & HSK holders
The steep taper tool holders (SK, ISO, CAT, BT, BT with face contact) at HAIMER are consistently better than AT3. This results in an optimal connection between the machine and tool. The roundness and straightness of the cone are inspected at 3,000 different points. The HSK holder has developed into the new standard for machining centers, especially at high speeds. Our HSK tool holders are fine grinded on all functional surfaces and have tighter tolerances than the DIN norm.
5. 100% made by HAIMER
Everything made 100% in Germany - Thanks to our double 100% inspection, HAIMER consistently guarantees high quality, no matter when the tool holder is purchased. Whenever it says HAIMER, it means it is made by HAIMER.
6. High Quality Material
HAIMER uses special raw materials, according to its own standard for the tool holders, and this is 100% checked by detailed spectral analysis. The material offers high strength, high toughness and is perfect for the requirements of shrinking technology - so that you can shrink in and out with repeatable accuracy as often as you like. There is no limit when using HAIMER shrink fit and tool holders.
7. Variety of Sizes
Our variety of lengths and geometries is unbeatable. Regardless of whether it is slim (Mini Shrink) or extremely stiff (Power or Heavy Duty) versions, HAIMER has the right outer geometry in their program for every machining challenge. In addition to shrinking technology, HAIMER also offers high-precision ER collet chucks, Power Collet Chucks and High Precision Collet Chucks, HG Chucks, Weldon, face mill arbors and other clamping systems.
8. Program for all Spindle Interfaces
For a precise connection to the machine spindle and for the transmission of the speed and torque, HAIMER offers tool holders in a wide range of interfaces. You will find common interfaces like SK, CAT (with face contact), BT (with face contact), HSK or PSC, but also exclusive interfaces depending on the machine tool manufacturer. No one else offers this kind of variety.
9. Upgrade Possibilities & Full Service
Besides the standard versions, you can get a tool holder with many optional upgrades. Innovative solutions for consistent cooling such as Cool Jet and Cool Flash or the patented Safe-λock® pull-out protection, just to name a few. With Data-Lock, HAIMER also offers a mechanical RFID chip protection and we can supply all equipped with a chip, including fine balancing, as a full service. Further individual solutions are available.
10. Industry 4.0
Industry 4.0 revolves around the collection and automatic, real-time evaluation of data to optimize the machining process. Modern manufacturing requires technologies that can receive and send data. With the help of RFID chips or QR codes, tool data can be transmitted to the machine tool. With HAIMER, everything is in one system: The customer gets the tool holder, including data-matrix code and the machine from a single source.